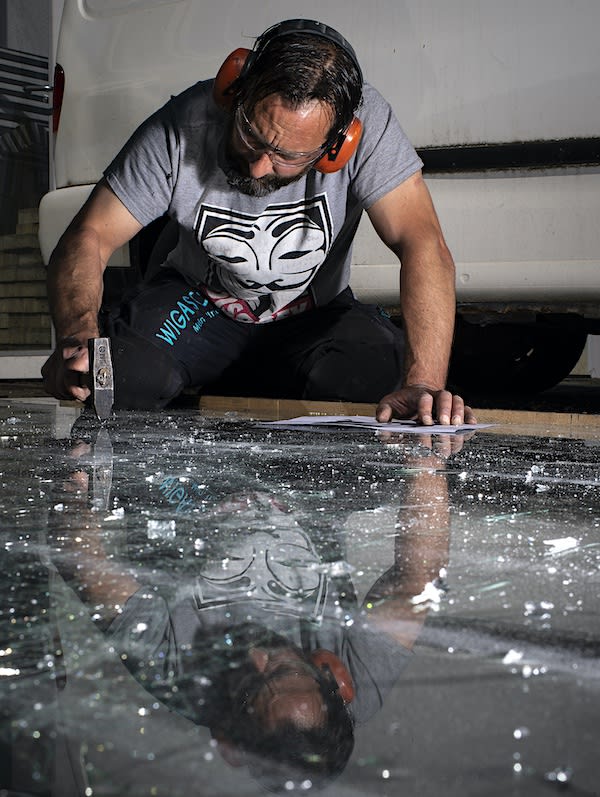 Contemporary glass artist Simon Berger speaks a singular plastic language by exploring the depth of his material, the glass that he pounds, or cracks with a hammer. The window becomes the support of an expansion done by impacts playing with transparency. The closer and briefer the blows, the stronger the contrasts and the shades. In his hands, the hammer is not a tool of destruction, but rather an amplifier of effects. Berger began his artistic explorations with spray can before turning to other mediums. A carpenter by training, his natural attraction to wood inspired him his first creations out of the street. A lover of mechanics, he also spent plenty of time working on car carcasses. It was while pondering about what to do with a car windshield that his art was born.
"Human faces have always fascinated me", explained Simon. "On safety glass, these motifs come into their own and magically attract visitors. It is a discovery from abstract fogging to figurative perception." Simon Berger was born on April 9, 1976, grew up in Herzogenbuchsee (Switzerland). Lives and works now in his own studio in Niederönz. PRESSEMITTEILUNGEN PRESS RELEASES
NEUE WERKE IM KATALOG (PDF)
NEW WORKS IN THE CATALOG (PDF)
(Rot: verkauft, Grün: reserviert aber weiterhin erhältlich)
Repräsentiert durch Artstübli Galerie, Basel
Für spezielle Werk- und Projektanfragen bitte Philipp Brogli kontaktieren.
Represented by Artstübli Galerie, Basel
For special work and project inquiries, please contact Philipp Brogli.
TV:
Press releases:
Artnet
Official website
https://chiefglassceilingbreaker.com