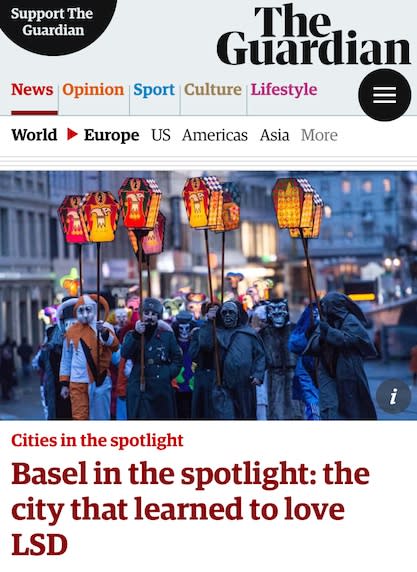 Art Basel is one of the world's most famous and extravagant art fairs, with off-shoots in Hong Kong and Miami Beach. But locals say there's much more to Basel's art scene than record prices. The city's free-thinking legacy has inspired a robust counter-cultural tradition – with or without the help of mind-altering substances.
Sebastien Pierre Portron, an art consultant, grew up here and returned to the city three years ago after some time abroad. "People from all over Europe have been coming here for centuries," he said. "Not just artists but different people from all cultures, all religions. In the arts, people came to Basel from very early on. Holbein the Elder and the Younger came here to develop and promote their art, and many others followed – Picasso, and more recently, even Ai Wei Wei."
Portron works for Artstübli, a gallery set up by a local curator, Philipp Brogli, that promotes urban art. The gallery works with newcomers as well as more established urban artists. Among them is the French artist Invader, famous for his "space invader" mosaics in public spaces – of which there are 24 in Basel alone.